Hunting Works launches initiative
By: By Teri Finneman, Forum Communications Co., The Jamestown Sun
BISMARCK — Hunting in North Dakota has a $278 million ripple effect on the state's economy and supports nearly 3,000 jobs each year, hunting advocates say.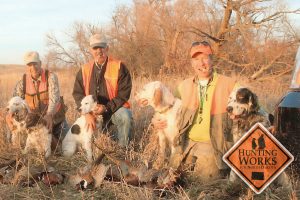 A new organization called Hunting Works for North Dakota launched Monday to raise awareness about the sport's impact on the state. North Dakota is the first state to announce the initiative backed by the National Shooting Sports Foundation.
The goal is to provide a cohesive message about the positive effects of hunting, said Mark Thomas of the Connecticut-based foundation. Similar programs in Minnesota and Arizona will be announced this week.
Supporters provided statistics showing 139,000 people hunt in North Dakota each year and spend $103 million.
The issue isn't about hunters versus nonhunters or about killing animals, said Todd Jacobson, owner of the Sunlac Inn in Lakota and co-chairman of Hunting Works for North Dakota.
Supporters also stressed the initiative is not related to Measure 2, which would ban high-fence hunting in the state.
"It's about how hunting affects us in North Dakota, period, economically speaking," Jacobson said. "It's as important as farming. It's as important as the oil industry. It's right up there (as) one of our top industries in the state."
Terri Thiel, executive director of the Dickinson Convention and Visitors Bureau, said hunting season is "like Christmas" for a number of small communities and businesses near Dickinson.
Hunting accounts for 40 percent of business at the Sunlac Inn and supports its 32 employees, Jacobson said.
"I don't think people realize, even if you're a nonhunter, how much it (hunting) affects you," he said. "We're here to try and change that."
Hunting Works for North Dakota is also about maintaining the state's heritage, said John Arman of Bismarck and host of Ultimate Outdoor Adventures.
The grassroots partnership includes North Dakota sporting organizations, small businesses, hospitality entities and retailers from across the state.
Hunting used to be about putting food on the table and still is, through the money and jobs it provides, Thomas said. The initiative aims to create awareness as hunting participation declines due to issues like lack of access and increasing regulations, he said.
North Dakota and Minnesota are part of a pilot program that will determine whether to spread Hunting Works programs to the rest of the country, Thomas said.
For more information, visit www.huntingworksforND.com.
Teri Finneman is a multimedia reporter for Forum Communications Co.